Sensory play comes in all textures and colors, but it's cheapest if you can create it yourself! This simple tutorial will show you not only how to dye beans for sensory play but also discuss what type of beans to dye for sensory bins.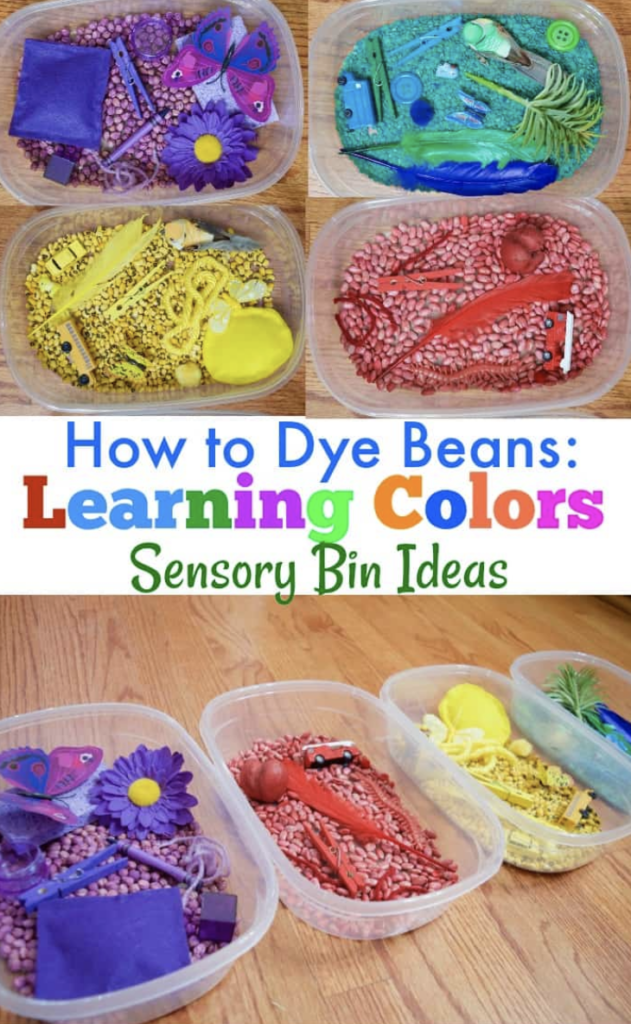 I've been creating sensory activities for almost 13 years now – long before it was popular! I've also learned in that time frame that just about anything you buy that is labeled as "sensory" means it automatically comes with a higher price tag! It's CRAZY simple to make your own sensory bin materials at home and even dye them to fit your theme! Check out our tutorial below and leave me a comment letting me know if you've tried another type of bean or method than we use below!
What kind of beans do I need for sensory bins?
I went to the store and picked up literally a bag of every single type of beans that I could find in the store. I wanted to try to dye a big variety of them to see what worked best. I figured any beans that didn't dye well I could just use the rest of them for sensory bins as they are. Below I break down the best beans to use for dying colors but you can use any beans for sensory bins! In fact my favorite is to mix several different shapes and sizes of beans in the same bin for additional textured play.
Directions on How to Dye Beans for Sensory Play: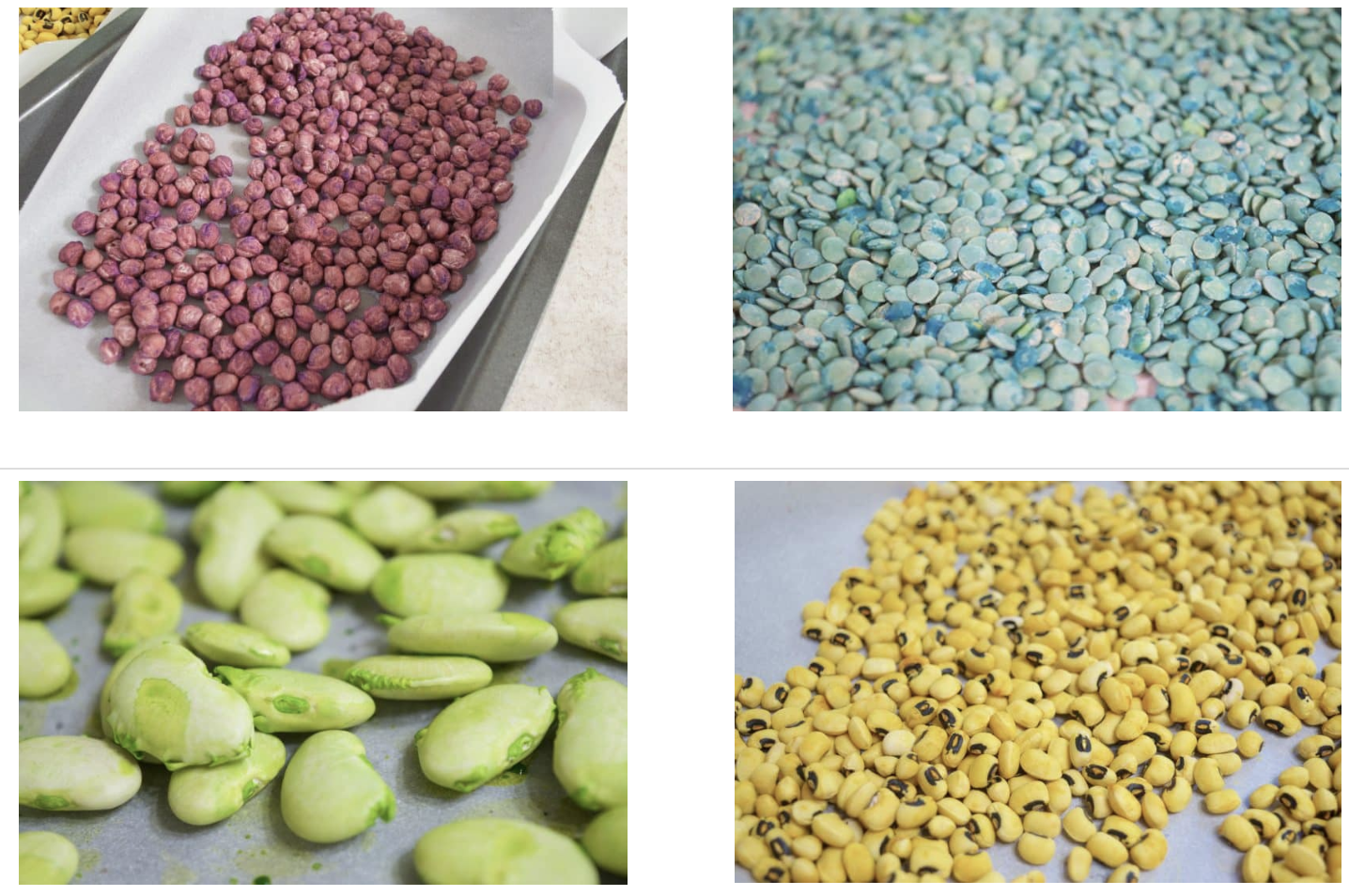 Materials Needed:
beans of choice
rubbing alcohol OR vinegar
Step 1: Place one cup of your choice of dry beans into ziploc bags. (see below for break down of which beans work best to dye.)
Step 2: Add one squirt of food dye into each bag.
Step 3: Add 1/2 tsp. of rubbing alcohol (or vinegar) into each bag. (Because of the waxy coating on beans I recommend using rubbing alcohol for these color sensory bins.
Step 4: MIX WELL.
Step 5: Pour beans onto parchment paper or foil to dry.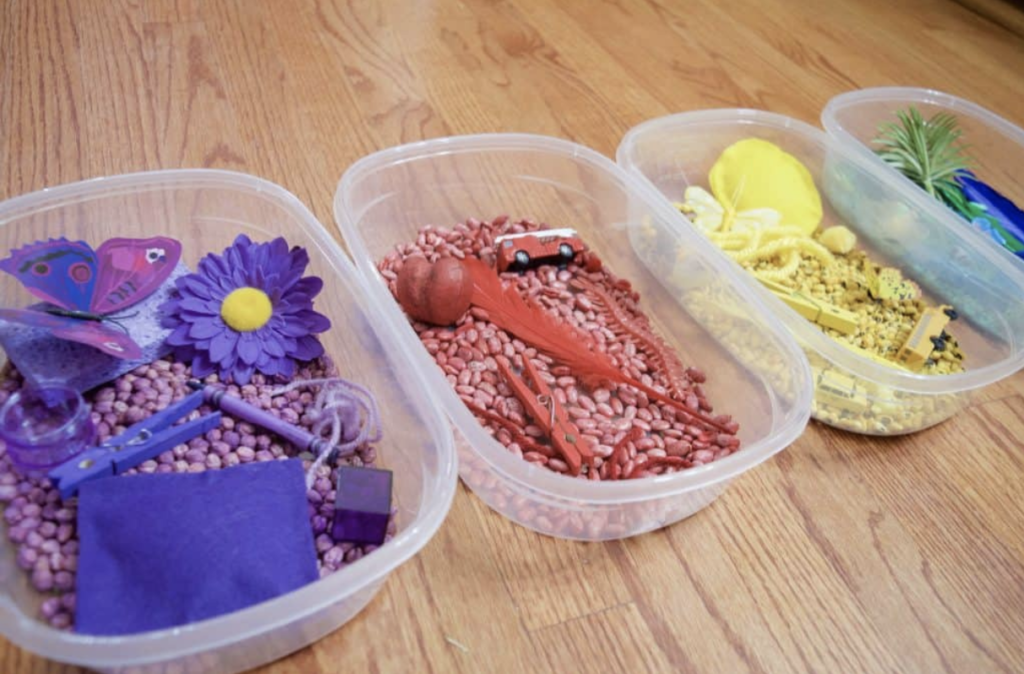 What beans did we dye for our color sensory bins?
We dyed garbanzo beans purple, lentils blue, lima beans green, black-eye peas yellow, and pinto beans red.
What is the best kind of bean to dye for sensory play?
Ultimately the pinto beans took the LONGEST to dry but the turned out the nicest! Remember that many beans have a waxy coating so don't worry if your bean batches look a little wet! Most of all the beans we dyed pretty much dried within a couple of minutes and were very easy to work with.
What kind of beans are the worst to dye for sensory play?
The lima beans were by far the worst bean to use for dying beans. They deteriorated and the edges peeled up. Lima beans are great, however, for growing in a Dixie cup or just using without dying in a sensory bin!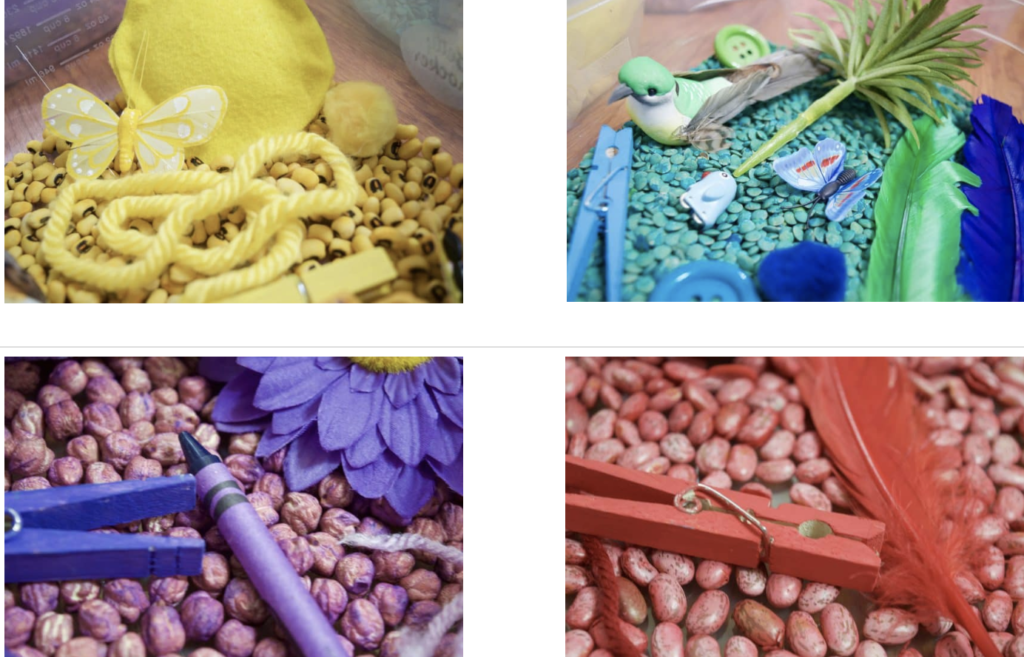 Now you can mix your colors and beans for a varied tactile activity or separate them out into separate sensory bins like I did above! We have a quick and easy storage tub with lid for each color although you can easily store your colored beans in a ziploc bag too. Although we chose to do a blue AND green sensory bin to specifically work on telling the different between those two colors! If you don't have specific things to add into each color bin you can easily make some! Just grab some paint or markers and color clothespins, add these no sew felt shapes, yarn scraps, pom poms, crayons, faux flowers, buttons, etc.
Ideas to Add to Colored Sensory Bins:
crayons
yarn
felt
painted clothespins
faux flowers
pom poms
colored sand
sequins
buttons
beads
feathers
tissue paper
small toys